Insights
Urban Element takes on the virtual Brighton SEO!
23/08/2021 |

Digital Marketing

| 3 minutes
On the 22nd and 23rd of July, members of the Urban Element digital marketing and development teams, sat down to watch speakers across the UK and beyond in the virtual Brighton SEO, give in detail talks about the world of Search Marketing. Alongside the team watching, Managing Director, Natasha Ellard participated in the event by giving a talk about how to convince the 'powers that be' to give more marketing spend. 
How to Convince the Powers that be to give you more Marketing Spend
During the talk by Managing Director, Natasha Ellard, she covered her top tips to implement in order to convince the powers that be for more marketing spend. These include: 
Speak their Language – Adapting the way you converse with the powers that be to speak in their language. 

Engage in Quick Win Cost Effective Tactics – Whilst waiting to see long term results, produce small visual wins.
Understanding – Create and understanding of how your powers that be like to communicate to alter your pitch style for more budget.

Producing Undeniable Proof – Telling stories is a great way of providing undeniable proof in a third party non threatening way. 

KPI's Prove ROI – Highlight improvements in aspects of business such as; conversion rate, revenue per lead, cost per lead and client retention rate. 
The team thoroughly enjoyed getting together to live stream the talk and congratulate Natasha for an incredible talk! 
What the Team had to Say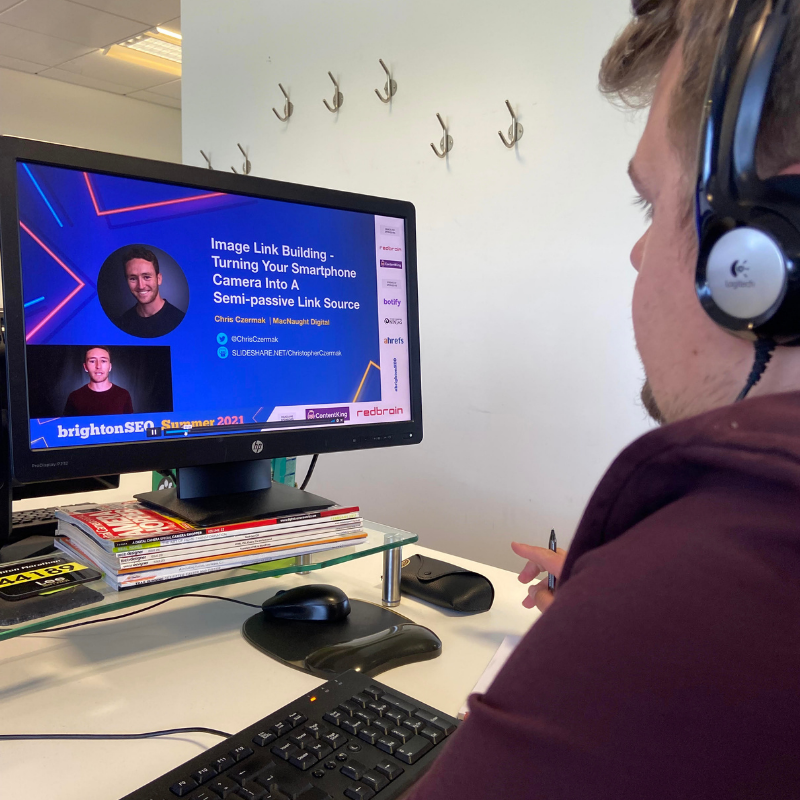 In total, three members of the Urban Element team sat down to watch a variety of talks over the two day event, each member with a varied set of interests. Here is what each member had to highlight about their experience and three golden nuggets they took away from the conference! 
Lee Vanstone, Front End Web Developer
At this year's Brighton SEO there were some excellent all rounder talks that were great to add fresh perspective on how to tackle projects and their setup. These talks provided us with some opportunities to work this into our day to day workflows here at Urban Element. The benefit of being online is that I am able to rewatch them.
Dave Peiris talk on "Beyond Lighthouse: How To Improve Site Speed" was full of useful tools for performance and something that we can use in our projects moving forward
 Izabela Wisniewska's talk showed how to use JavaScript effectively so it doesn't hurt website performance.
Watching Natasha on the big screen was a particular highlight for our entire team!
Luke Terzino, Senior Social Media Specialist
Thoroughly enjoyed this year's Summer Brighton SEO lineup.
Proud moment witnessing our Managing Director Natasha Ellard feature as one of the guest speakers. I found Jasmine Granton's talk on: Morals and ethics in Digital PR – why we need to check ourselves – particularly insightful, and has provided me with multiple actionable takeaways to consider with future PR efforts.
I received detailed insights into the morals and ethics of Digital PR from the very talented Jasmine Granton – Co-founder of Chalkboard Creative
I found some new innovative methods in Natalie Arney's talk on Tech, Content or Links – what really drives SEO Growth – and have already started to implement many of the link building practices
It was a proud moment to see our Managing Director Natasha Ellard feature as one of the guest speakers.
Having annually attended BrightonSEO for 5+ years, we always told ourselves that we would one day find a way onto that stage.
Ellie Daly, Social Media Specialist
This was my first experience at a Brighton SEO and I found the experience extremely valuable! I thought the process ran extremely smoothly and am enjoying the opportunity to replay the videos that I missed! One of the talks that resonated with me was entitled 'Why you might actually need to do less SEO for better results'. This talk really encouraged me to think commercially and priortise based on objective and implement as you go! Looking forward to my next BrightonSEO experience.
'Why you might actually need to do less SEO for better results' opened my eyes to another approach towards SEO, with elements I will be implementing into my own work! 

'Love the way you link' taught me how to show value whilst link building, a great tool when reporting back to clients!
Being part of a team that was involved in the process of being a speaker was an exciting insight for things to come in the future!
Urban Element are experts at creating commercially driven SEO  Based in Oxfordshire, our team manage digital and SEO for successful businesses across the UK and internationally.  We have 18 years digital agency experience and live and breathe SEO. If you are in need of any SEO services, get in contact with us.
About the author