Insights
Urban Element's Guide To Google Ads Part 2
15/08/2022 |

Digital Marketing

| 4 minutes
In part 1 of our 'Guide to Google Ads' series, we covered essential Google Ads terminology to help you set up and manage your first campaigns.
In this second part of our Google Ads guide, we'll be giving you insights into our recommended best practices, while helping you get the most out of your campaigns.
Use a Template
A template can be very useful when setting up your Google (PPC) Pay-Per-Click ads. Not only does it help you visually showcase and strategise your campaigns, it makes them easy to present, modify and share with other departments within your organisation.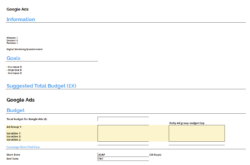 Avoid Too Many Broad Keywords Terms
Test and tweak your keywords regularly to help with your strategy. If your keywords are too broad, Google will place them in front of the wrong audience which will often lead to fewer clicks, higher ad spend and poorly qualified traffic reaching your website.
Adjusting your keywords throughout your campaign can be helpful when trying to match them with your audience. Google Ads can be a journey of adjusting and replenishing your ads so they are optimised.
Don't Run Irrelevant Ads
If your ad headlines, descriptions and landing pages fail to match your keyword pool and searcher's intent, you will likely accumulate unqualified traffic that will burn through your budget with little to no ROAS (Return On Ad Spend). It is recommended that your ads match your keywords and the content that you have on the selected landing page. Your ad should be marketing a need to solve whatever pain the searcher is experiencing.
You have the option to create multiple ads per campaign and can use this feature to split test which ads work best. You can even use Google's Responsive Search Ads feature.
Optimise Your Ad Landing Page
Your ads are only as good as the content on your selected landing page. Your user should experience a seamless journey through to the conversion. Conversion rate optimisation is the process of optimising a landing page so the website visitor is inclined to take out an action on your site.
How can Urban Element help with Google Ads?
Our background in Google Ads is extensive and our team of Google Ads Certified Professionals tailor each account, ensuring your campaigns target a specific and filtered audience to meet the ROI goals you are looking to achieve.
We have helped businesses of all sizes, achieve substantial ROAS (Return On Ad Spend) with  a 97.7% increase with Buildbase's Google Ads.
Start your Google Ads journey with Urban Element by talking to one of our specialists today
About the author