Insights
Why Implement Google Analytics 4 Before Universal Analytics is Phased Out
11/05/2022 |

Digital Marketing

| 6 minutes
Google Analytics 4 will soon be replacing Universal Analytics on the 1st of July 2023. Although this is still some time away, staying one step ahead will play a pivotal role during the migration process, especially when establishing historical data trends.
Why? Because the data gathered by Universal Analytics will not be transferable when migrating to GA4. With this in mind, we believe it is absolutely essential to begin tracking data now. This will enable you to view a historical snapshot of 6 – 12 months by July 2023.
So, what's new in GA4?
Universal Analytics (UA) properties only support websites, whereas GA4 will allow you to use a singular property for a website, an app, or both together.
The reporting tab, now displayed as a graph, is situated within the left side navigation, below the home icon. This will lead you to the reports snapshot where you can see the number of visitors within the last 28 days.

Reports have now been split into two main areas: Life cycle and User. Life cycle helps to show where your users have come from, while User provides you with more technological and demographic data.
If you're still a little unsure as to where to start, don't sweat it, Google provides multiple pre-made templates designed to help analyse user behaviour in GA4. Each template has a purpose. The User lifetime template unsurprisingly analyses the entire lifetime of your visitors, while the Path exploration template shows you the journey that they make whilst on your website. 
Advertising Snapshot
The advertising snapshot gives you a neat, tidy and efficient overview of your conversion performance, perfect when time is short and a quick analysis is required.
Easily view attribution channels, such as Organic, Direct, and Paid search, and distinguish which drove the most conversions in a fast and efficient manner. This enables you to quickly identify the key moments in your visitors' purchase journey, helping you build conversion paths and funnels.
Automated Event Tracking
We strongly recommend having both a GA4 property and GTM (Google Tag Manager) set up, as this will help improve the accuracy of your tracking, whilst preventing the need to hard-code tags long into the future. If you are familiar with Google Tag Manager's interface, you will be familiar with GA4's layout as both are similar.
Did GA4 remove goals?
In GA4, the conventional goal has been reimagined, and can now be found under events and conversions. All conversions are now very much event-focused and can be set up to trigger on link clicks, button clicks and thank you pages, to name just a few.
However, if you are creating events for e-commerce, it may get more technical for you – that's where an expert marketing team can come in handy (wink wink).
Configure
The configure area of GA4 is likely going to be a learning curve for many. 
Here, you are able to create conversions, events, audiences, and so forth. 
Conversions – Track Email, phone, and button clicks with ease and precision.

Events –

Track on-page elements and form completions.

Audiences – Segment, build, dissect, and analyse custom, look-alike, and remarketing audiences.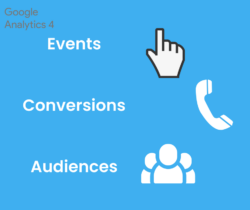 So, where do you go from here?
Implementing GA4 now will help you when UA is discontinued next year. If you're still a little uncertain, worry not, we've outlined the simple steps you can take today below.
Set up a new GA4 property – Your data will not be transferred over to GA4 next year, so maintaining historical data by

getting a head start

is key.

Connect GA4 with Google Ads – This will help unify your paid marketing activities and provide a clear and concise advertising snapshot.

Spend time learning the ins and outs of GA4 – It is much more complex than UA and will take some time to get used to. 
Urban Element has a team of specialists that have been adapting to GA4. We have worked with UA for many years and, although these changes are considerable, our team is on hand to help you maintain historical data, whilst gearing up for the change over to GA4 next July.
If you have GA4 set up already, and are considering branching out into SEO, our Digital Marketing team is on hand to help with all of your SEO needs.
Get in touch with us today to find out more.
About the author