Insights
3 Ways Corporate Social Responsibility Adds Value to Your Business
12/04/2016 |

Company

| 15 minutes
Corporate Social Responsibility (CSR) is about businesses acting as citizens, behaving responsibly towards their employees, society and the environment.
CSR is for small and medium businesses too
CSR is often seen as something that big corporations do. But CSR is often integral to the behaviours of small and medium-sized businesses, even if it's not explicitly called out. CSR takes many forms, but could include policies around the following:
Procurement
Recycling and use of resources
Diversity and inclusion
Employee welfare
Charitable giving
Volunteering.
Above all, CSR policies advocate businesses acting sustainably — in the broadest sense of the word. This has inherent business benefits, in particular for SMEs. Ensuring costs, growth and other aspects of the business are sustainable is key to success.
ROI is key
CSR shouldn't be considered a costly activity. While implementing CSR policies may have cost implications, in order to be sustainable there should be a clear return on investment (ROI) identified before the policies are put in place. ROI shouldn't be considered a dirty word in this context. Your business can benefit in a number of ways from acting responsibly — not all of which will have an easily identifiable monetary value.
3 Ways CSR Can Benefit Your Business
1) Promoting your business
Getting involved with charities, community projects or environmental campaigns can get your business positive press across a wide range of channels.
Working outside your industry can provide you access to new networks, which allows you to get your brand in front of a whole new audience. These opportunities can take a number of different forms:
Events related to your CSR work
Communications from the organisations you're working with to their networks
New audiences for your company's communications — such as related hashtags or specialist press.
There should be no shame in working the room (physical or virtual) when these opportunities arise, as long as you're not detracting from the cause you're supporting.
2) Establishing your company's point of view
Personality can be a key differentiator when attracting new clients, customer and staff. However, it can be difficult to set your business apart in a meaningful way. The choices you make in your CSR efforts can be an effective way of doing this. Promoting your values appropriately can set you apart from your competitors.
This can be particularly useful for smaller businesses, where the values of the business are intrinsically linked with the values of the owner. Implementing CSR policies provides a means of making these values explicit and tying them more closely to the business. Alternatively they provide an opportunity to separate the values of the owner from those of the business.
The potential impact on recruitment shouldn't be underestimated. The Millennial Impact Report 2014 found that a company's involvement with causes was the 3rd biggest factor for the Millennial Generation when applying for a job.
3) Staff Morale
Giving your employees the chance to do something worthwhile can provide a sense of wellbeing and improve the mood of the workplace.
Volunteering or support for local charities can help employees to feel that they're giving back to the community and can give employees an opportunity to interact with each other in different ways, away from the office.
Supporting causes also gives your workforce a chance to get creative and use different skills that aren't utilised in their everyday work. This can be beneficial to your business, bringing in fresh ideas and new ways of working.
Getting ROI in the form of boosted staff morale can be tricky — it's important that the causes your business supports align with your employees values in order to get the most impact.
It's also important that any contribution they're making outside of working hours is voluntary and seen as such.
Our approach to CSR
Much of Urban Element's business comes from businesses in the local area, so we've made a decision to focus our external CSR efforts on supporting local charities.
SpecialEffect
SpecialEffect is charity that uses technology to help disabled people overcome their physical challenges and play video games or use leisure technology.
They use a range of technologies, from eye-gaze systems that let their users control computers (and play games) with just their eye movements, to modified keyboards and controllers. Each solution is unique, taking into account the abilities of the individual they're working with.
We've been involved with SpecialEffect since 2010 and developed their website. But our involvement goes much deeper than that.
The TwinTown Challenge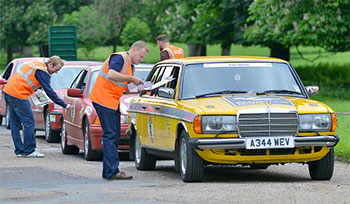 In 2014 the TwinTown Challenge was set up by Brendan Cross at STL Communications. Twin Town is a car rally between Witney and its twin town in France, Le Touquet.
Teams are tasked with buying a car for £500 that will then compete in a number of challenges before driving in convoy to Le Touquet and back via the Brands Hatch, Le Mans and Croix en Ternois race courses. Teams fundraise along the way, with all money going to SpecialEffect.
This was right up our street – matching the interests of the team, supporting a charity we were already involved in and providing plenty of opportunities to challenge ourselves and meet new people.
We entered a team to take part, as well as sponsoring the event and building the website.
The event was a great success, raising a fantastic £30,000 for SpecialEffect.
TwinTown 16
That wasn't the end of our involvement with SpecialEffect or TwinTown. The Twin Town Challenge is back for 2016, and we're taking part yet again – as sponsors, providing a website, supporting their digital marketing and also taking part.
Our team, Uber Element, will be driving a 1996 black cab pimped out with interior light show, sound system and onboard WiFi and charging station so it can act as a social media hub.
Help Us Support SpecialEffect and Twin Town
I hope that you've been inspired to look at how you can implement CSR policies in your business. If you'd like to support our Twin Town 16 fundraising, you can find our more on our BT MyDonate page.
If you're interested in taking part or sponsoring the event, you can find out more at www.twintown.org.uk.
Ahead of the main challenge, we'll be taking the taxi on tour to Oxfordshire business parks and networking groups. We'll be offering website SEO reviews in return for a donation to the charity.
About the author