Insights
9 Ways to Incentivise Engagement on Social Media
30/05/2022 |

Social Media

| 5 minutes
If you had told business owners 20 years ago that social media would become the most essential thing in people's lives, I don't think it would have gone down well. While smartphones and computers began evolving, so did social media. Flash forward to 2022 where social media is now the most essential component of any business model. 
Promoting your business on social media can play a vital role in increasing brand awareness while acquiring customers. Engagement can be likes, comments, follows, shares and user-generated content. Put these tips into practice today to incentivise your engagement on social media.
1.
Leveraging Your Stories
Instagram, Facebook, and TikTok have stories, a place where you can post updates daily which disappear after 24 hours. Different from standard posts, you can use polls (IG) quizzes (IG) and even promote your recent posts. 
Your normal post may get lost in the sea of content but stories are more likely to be viewed. This can create a FOMO (fear of missing out) kind of feeling as it can only be viewed for a certain amount of time. You will then be able to gather how your audience reacted to it and utilise the engagement for future posts.
2. Don't Just Promote Your Brand
Talking about your brand and what you offer is a great way to promote yourself however it shouldn't just be that. Share funny content from your industry and news around what's happening shows that you are not just promoting yourself. No one likes to be constantly bombarded with post that are selling products/services every day, mix up the content that you share.
Take Semrush, they play with marketing and SEO memes to gain traction and engagement for their brand which ultimately leads to new users signing up to their platform.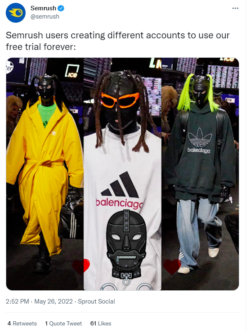 3. Trending Pop Culture
Trends come and go like rain, they can be here one day and gone the next. Utilising your ability to partake in current trends can help obtain more engagement and even widen your audience.
4. Personable Posts Do Better
Personable posts are more likely to do well as they help connect you to your audience. It also shows them that there is a team behind the account. Showing your businesses achievements, team days out or even an everyday post about being in the office.
People like to do business with people. We are all human and we like celebrate each other's accomplishments, share them to your audience to show the personable side of your business. Euramax Solutions does this well by showing their audience what they get up when celebrations arise.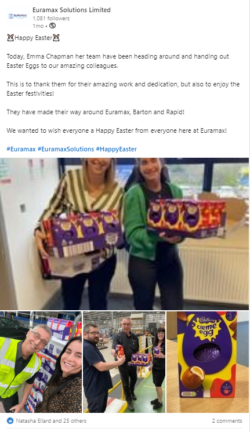 5. Sharing User-Generated  Content
You see it everywhere. Big brands tagging photos from influencers and smaller accounts. User-generated content is everywhere and can help massively. Not only does it show off your business and your products but it makes your social footprint look more appealing to potential customers.
When you share someone's content, they're more likely to show they've been tagged and reposted by your brand therefore creating a circle of engagement. Kip Tape does just this, with their UGC, they are able to show their audience how other people use their product while gaining traction.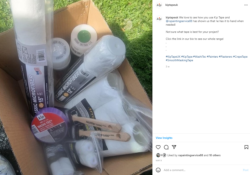 6. Responding to Comments and Direct Messages
Some businesses will just post and overlook any comments or DM's they may get. You want to engage with your audience, they know someone is posting but they want to see that. 
No one likes to be left on read, have a conversation with someone who's commented on one of your posts. You are representing your brand, start that convo!
7. Visual Content
Our attention spans are getting shorter and therefore most people tend to prefer seeing visual short-form content rather than a long list of words (ironic, I know). Eye-catching assets are one of the best ways to gain engagement on social media. It helps to show what the copy is talking about but also get the audience's attention.
Visual content doesn't just have to a static piece of media either, you can utilise video, GIF and even a meme. Giving variety to your content gives you the ability to explore a range of different topics on social media.
We achieved a lot of engagement on our Valentines day post by creating an eye-catching visual to help us stand out. With this in mind, we gained over 8k impressions and over 100 likes on LinkedIn.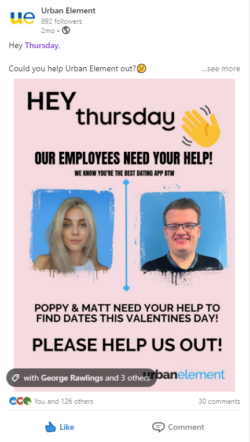 8. Utilise hashtags
Not only will you have hashtags that are about your business but they also can be about the industry or sector you are in. Each platform has a number of hashtags that will give you the best reach.
Facebook – up to 5
Instagram – 10 to 15
Twitter – up to 5
LinkedIn – 3-5 
The platform may differentiate which hashtags you use but it gives you the ability to expand your audience and gain more engagement. Creating and using a hashtag research document lets you see what hashtags are useful to your posts but also the ones that you should scarcely use due to the volume that is already out there.
9. Post Frequently 
Posting once a week nowadays tends to show that you're not interested in growing your brand. Social media is an everyday kinda game, you have to be on it. 
Posting frequently helps your content to be seen but quality over quantity is key to making sure you get the engagement you need. Post every other day or even two days a week to make sure your brand stands at the front of people's minds.  It also increases the chance to expand your audience while gaining more engagement.
Urban Element are specialists when it comes to social media management. Curation, asset creation and scheduling are key to helping you grow on social.
If you are looking for Commercially Driven Social Media Marketing, the Urban Element team are ready to help you. 

Get in touch with us today to learn more!
About the author