Insights
A Retrospective Look at Our Most Successful Digital Marketing Activities
14/04/2022 |

Digital Marketing

| 6 minutes
Over the last 12 months, we have showcased a wide variety of client success stories, highlighting our winning processes, and how our creative and strategic efforts helped them reach their commercial goals.
However, not ones to blow our own trumpets, we had never thought about sharing our very own successes here at Urban Element, so after a long think and multiple cups of coffee, we've decided today would be the day to acknowledge how far we have come as a commercially driven digital marketing agency.
Some of you may remember our Co-Owner and Managing Director, Natasha Ellard, talking about our vision and goals for the new Urban Element website that was redesigned and launched last year. 
Natasha stated:
'We are a fast growing Digital Marketing Agency with a specialism in Social Media Marketing, Digital Marketing, and Web Design.' 
It is all very well saying this and to have a desire to sign more social media projects, but we still needed to look the part. 
Giving our Social Media a Persona
When I joined the team back in November 2021, I took on Urban Element's social media presence and very much welcomed the new challenge. I wanted to showcase what we do, not just from the success stories of our clients but also what makes us stand out as an agency.
With all this in mind, I set out to give UE a persona behind our accounts. In the past few months, we have been doing more out-of-the-box marketing from our Monthly Marketing Campaign Round-Up to trying to set Poppy and Matt up with a date by tagging an up and coming viral dating app.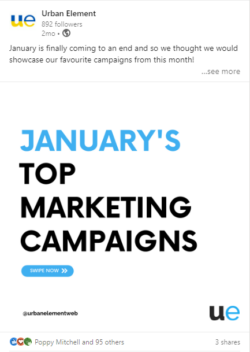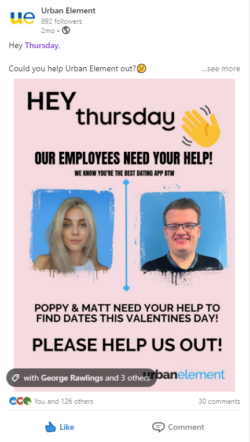 Not only has this enabled the team to be more creative but we are more collaborative on the posts that do go live. We can showcase the work we do for clients but we don't just want to drone on about our services. Social Media is a big universe and we want to have fun while doing work.
Our Monthly Marketing Round Table
We wanted to connect with heads of marketing and marketing managers and last year, we launched our invite-only Marketing Round Table. The round table is on the last Friday of each month where Natasha and the DM team attend with guests from TG Lynes, Buildbase, Euramax, Aitchinson Raffety, Alliance Transport Technologies and Shurtape UK.
Each topic is different but at the start of every round table, we talk about our VIP's.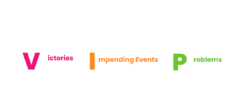 Victories – something that went well in the last month
Impending Events – anything coming up that we could help with 
Problems – things that may have arose that need solving
This gives everyone a chance to talk and even help each other with any problems that someone may have. It also allows marketing heads and managers to meet one another.
Improving our visibility and rankings
One of our goals with the new website was to improve our visibility and rankings. In the last year, our big improvements in rankings have been:
Social Media marketing oxfordshire – now in position 1 on Google UK
WordPress development – now in position 2 on Google UK
Social media marketing oxford – now in position 3 on Google UK
PPC management oxford – now in position 3 on Google UK
Hiring Me (and the rest of the Digital Marketing team)
I'm not saying the Digital Marketing Team is the best (we love our developers and designer) but we are the biggest team at Urban Element. 
In November, I joined as a Junior Social Media Specialist. Poppy transitioned into the team in February this year as another Junior Social Media Specialist, having recently worked at UE as a Business Administrator for 2 years.
Matt fronts our Technical SEO team taking on SEO fixes for ourselves and our clients and Dan is spending 25% of his time on social media brand guidelines for clients while helping us to stay on brand on our own social media.
In the last few days Luke, previously our Senior Social Media and PPC Specialist has been promoted to Digital Marketing Manager! Our team is now growing quicker and stronger than ever before and it is the dedication from all of us that helps Urban Element thrive. 
All of this hard work has given us some amazing opportunities over the past 12 months. Euramax Solutions parent company, MGI, came to us to help them with all 4 of their subsidiaries but MGI as a whole as well. We also signed Shurtape UK, the UKs leading tape brands to help them with Organic Social Media Marketing on all 4 of their subsidiaries; T-REX, Kip, Frog and Duck Tape.
Natasha comments in her video that through our social media and SEO we needed to see an increase in on profile enquiries and the above shows this has happened.
Enquiries have grown by more than 25% and in the last nine months, we have signed 18 new clients. Looking back on the objectives that Natasha set out to achieve over the last year, we have achieved so much and are determined to keep it going.


With a growing team, growing client base and the dedication from each and every person at Urban Element, we have very positive expectations in the upcoming months. 
Has your boss/team achieved your digital marketing goals?
Have you got a dedicated marketing strategy for 2022?
Have you brought your website into the 21st century?
If you answered no to any of these questions, we have a dedicated team of specialists to help you with these problems. 

Get in touch with us today to talk about your Digital Marketing, Social Media Marketing or Website Design requirements.
About the author